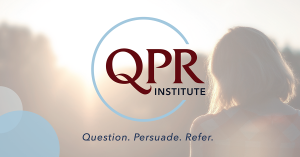 Community Crisis Response Team offer QPR training to groups. For bookings please email info@ccrtireland.ie
About QPR
Completing QPR through Community Crisis Response Team means you are being trained and certified by two experienced suicide intervention responders who can offer real life experience, and front line perspective.  QPR is now the most widely taught suicide training in the world.
QPR stands for Question, Persuade, and Refer — the 3 simple steps anyone can learn to help save a life from suicide.
Just as people trained in CPR and the Heimlich Manoeuvre help save thousands of lives each year, people trained in QPR learn how to recognize the warning signs of a suicide crisis and how to question, persuade, and refer someone to help.
According to the Surgeon General's National Strategy for Suicide Prevention (2001), a gatekeeper is someone in a position to recognize a crisis and the warning signs that someone may be contemplating suicide.
As a QPR-trained Gatekeeper you will learn to:
Recognize the warning signs of suicide
Know how to intervene
Know how to get help and save a life
How is QPR like CPR?
Much of the world is familiar with CPR — short for cardiopulmonary resuscitation — an emergency medical intervention created in 1957 by Peter Safar. The process is designed to stabilize people who aren't breathing or breathing intermittently and who may be in cardiac arrest until the person can reach a hospital or other care.
Similarly, QPR is an emergency mental health intervention for suicidal persons created in 1995 by Paul Quinnett. An abbreviation for Question, Persuade and Refer, the intent is also to identify and interrupt the crisis and direct that person to the proper care.
Both are part of a "Chain of Survival"
Both CPR and QPR are part of systems designed to increase the chance of survival in the event of a crisis.
In the Chain of Survival model of emergency cardiac care, the likelihood that a victim will survive a cardiac arrest increases when each of the following four links is connected:
Early Recognition and Early access | The sooner 999 is called the sooner early advanced life support arrives.
Early CPR | This helps maintain blood flow to the vital organs.
External Defibrillator | A device ready for use when advanced medical personnel arrive.
Early Advanced Life Support | Administered by trained medical personnel who provide further care and transport to hospital facilities.
Similarly, with QPR, a Chain of Survival must also be in place.
Who needs training?
In short, the more people trained in QPR, the more lives saved.
The city of Seattle, Washington and surrounding King County has trained more citizens in CPR per capita than any other region in the country. As result, CPR-trained citizens are more likely to resond to perceived medical emergencies in Seattle than in any other city in the United States, which leads to more favorable survival rates.
According to Sanddal and his colleagues (Sanddal, 2003), "In the Seattle cardiac care system it is estimated that one in four persons has been exposed to CPR training. One can conjecture that the recognition of, and survival from, an acute suicide event would be more likely if one in four persons were trained as a suicide lay gatekeeper."
At the end of 2009, an estimated one million American citizens have been trained in QPR by Certified QPR Instructors. Because of the nature of suicidal warning signs, and who is most likely to recognize and respond to them, we at the QPR Institute strongly concur with the goal of one in four persons trained a basic gatekeeper role for suicide prevention in the United States and in other countries. Because suicides happen in families – where emergency interventions are more likely to take place — we believe that at least one person per family unit should be trained in QPR.